I finally used some of my trendy "Echo Park" papers. Gosh this company has created a "buzz" in the scrapbooking world! People can't seem to get enough of their stuff. I like the colours and graphic nature of the prints. Here is a series of photos taken over the three weekends my hubby spent building our new 16x20 deck. Didn't he do a great job??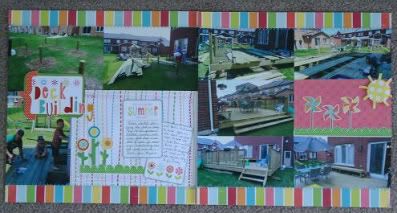 Afton plays on Team Germany in the 4 and under soccer league in our town. Once she got over the fact that she wasn't going to hurt the other kids by kicking too hard ( that is whay you wear shin pads, darling!) she has become a soccer machine!! She is definitely more athletically inclined then her big brother!!
(Scenic Route papers, chipboard and stickers)
Love the summer. So many things to do to keep the three kids busy!! Gosh. The sprinkler alone keeps them going for at least an hour!! (Cam isn't a big fan though!)
(Fancy Pants papers & diecuts)
Oh! Here is a bonus card. I made it out of Echo Park leftovers. Bryn's teacher got a real kick out of the apple triplets!