Yep. And they were both mine! I guess you could say I turned 34 twice this year. Kevin, our family and my in-laws had a BBQ and cake on my ACTUAL b-day, the 23rd of June. Kevin whipped up this extra-ordinary Black Forest Cake just for me. The story goes that I had planned to make my own cake in just this exact manner, but never got around to it. Luckily Kevin was off early that day,whipped home and baked this delicious treat from scratch!! Gotta love a man who can bake!!
The other birthday cake was made for me by my dear friend Chris. She is an amazing baker and as a special treat for my second b-day party, made me this layered Peanut Butter chocolate cake. Oh! It was scrumptious!!
I am so glad so many bakers love me!!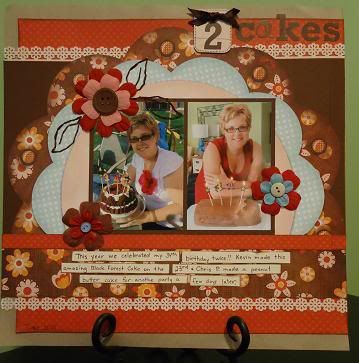 (All products by BoBunny)
My LO is based on this sketch from the BoBunny blog:
Thanks for visiting my blog!