It seemed like once a week I had to send a note to school with my son last year - "Mrs.B, Could you please help Bryn find his blue mitten? He left it at school AGAIN!"
This year I have 2 muchkins in school so my note-sending, I'm sure, will double. I try to keep cute notecards handy in my kitchen to write quick notes to school. I was nearly out when I checked the other day, so I for this "Little Red Wagon" Back to School challenge I made a handful of 3"x3" cards.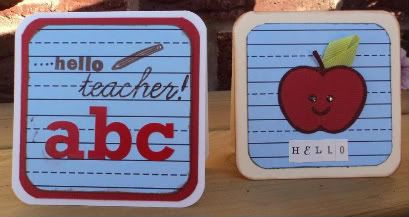 As a teacher myself, I know how nice to is to receive a pleasant note from a parent. In this case my notes to B & A's teachers will pleasant and pretty!
I made these in a "back to school" theme. Perhaps when these are gone, I'll make some "Autumn" theme ones. Then maybe Thanksgiving, then Hallowe'en, then......