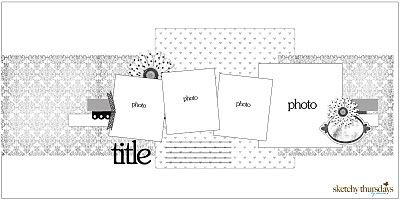 I found another challenge blog!! Hurray! This one is called "Sketchy Thursdays" and yes, they post a new sketch each week for all of us scrap-addicted crazies.
I recently bought a new camera and I was just getting to know it when I took B&A to Ottawa to visit my sister. While walking in a pretty cemetery near her home, I tried out my camera's Macro to snap these flower photos.
I really like the close-up of the orange tulip. Actually, I had a lot of nice close-ups of the gardens but I wanted only one focal point photo for this layout.