Oohh!  I am having so much fun doing challenges lately.  I love how it widens my horizons.  This week at www.theinspiredscrapper.blogspot.com they issued a sketch challenge featuring a sketch by Becky Fleck.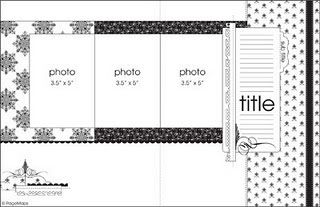 My two older children and I recently took a trip to Ottawa to visit my sister.  We had so many exciting adventures over the 3 days that I think I am going to make an 8x8 album out of the pictures I took.

 I used Becky's sketch to get started on some cute pictures I took at the Museum of Civilization.  In these pictures they kids are trying on theatrical costumes in the staging area of the kid's museum .
I added an extra photo and kept my embellishments to a minimum.  Simple and streamlined.