Another month, another group of projects created for my design team job at The Scrapping Bug.
This month our kit was based on Imaginisce's "B-day Bash" paper line. I didn't have a lot of birthday pics to work with so I used the paper in other ways too.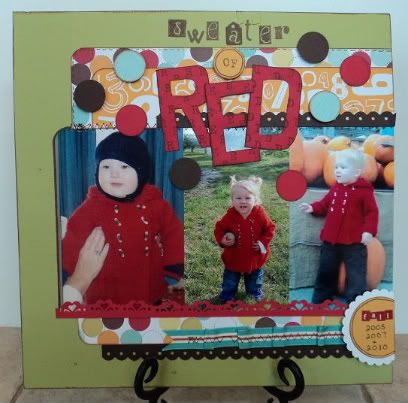 My mother knit this red sweater for Bryn when he was just over a year old. Apparently, my sisters and I had the exact same one back in the 1970's. I guess all styles come back, decades later!! In this layout, there are pictures of all three of my kids wearing the sweater - Bryn in Fall of '05, Afton in Fall of '07 and Camden this fall. Now that my kids are grown out of this favourite sweater, I am going to hold onto it for my nieces and nephews ( whenever I get some!!)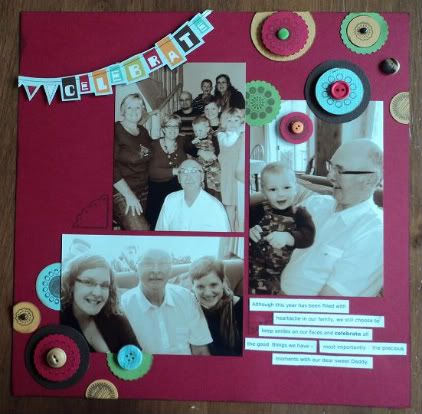 The whole family was together at Thanksgiving. As has been the norm over the last year, we cherish these family get-togethers in which my father is still present. We "Celebrate" every moment with him!!
I did have THESE b-day pics from Kevin's 35th in August. I never got around to scrapping them back then. I guess I knew deep-down that I may need them THIS month!
My 2 sons have birthdays in the next month. We are having a combined 6th and 2nd b-day party for them in early December. In preparation I made their party invite and some cake decorations. Check those items off of the party planning list already!!