Life has been busy lately, but I have found an hour each evening after the kids go to bed to sit down and scrap! Here are three recent layouts:

My mom, Nana, has introduced a new exciting thing to my children- the TEA PARTY! Now every time we visit Exeter they hope for some warm, milky tea, cookies and finger sandwiches, all served in an itty bitty tea set.

Here is Princess Afton- dressed in my high heels and her poodle costume. Yep! It was last year's Hallowe'en get-up , but now it is a regular plaything whenever Afton feels like she needs to be a "Posh Puppy!" (Love this paper line form Imaginisce!)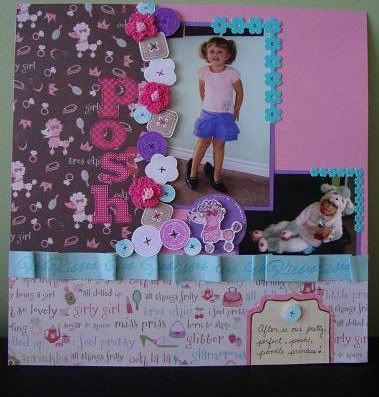 I am trying the scrap more day-to-day things- so here is my newest layout doing just that - capturing a moment at Tim Hortons. Mmmm... double double for me, coffee regular for Kevin and sprinkle donuts for the big kids. This picture also captures Camden's first taste of a Timbit
!