Hi there.  I'll start with my Project 12 layout for March.  It's another Becky Fleck sketch and I have used a variety of photos taken throughout the month that didn't really call for a layout of their own.  
I LOVE this Cosmo Cricket paper line. It's "Early Bird" and I bought a ton of it when it first came out. I think I have just enough left to put together a minibook for my in-laws.  That's another post....
Here is my layout about Easter morning at our home. I have really fond memories of that day. My older two kids knew exactly what to expect when they got out of bed that morning, but the baby didn't have a clue. I loved seeing the "Eureka!" moment when he figured out that there were chocolate eggs in each of the plastic eggs his siblings found. And right away, he was on the hunt - he wasn't going to miss any of that choco-goodness!!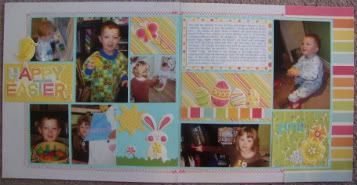 The paper and accents are all "Hippity Hoppity" by "We R Memory Keepers." Thanks to Melissa Inman for the sketch and "Brenda" for the inspiration.