I have several new things I'd like to share with all of you in blog-land, so I am going to have to roll them out over the next few days.
With spring upon us, I have been eager to get some projects done around the house. So with hubby busy with the new deck, I have set to doing some spring cleaning and decorating.
Pennants have become all the rage in scrapbooking:
(Elizabeth Kartchner)
I have also seen lots them in decor magazines, particluarly those mags that come out of England (I buy a lot of those!) So when I decided Bryn's bedroom needed a little pick me up, I dug through my fabric stash and put this together for him: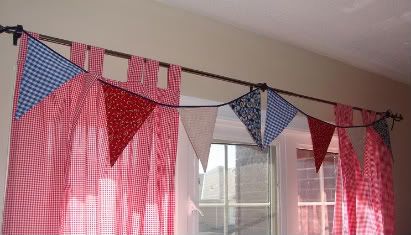 Do you like?? And it was easy too!