Before Christmas, I was dressing up for a concert at the school where I teach primary music. I was dressed in a black suit, with a red sleeveless shell underneath. Hubby said I looked lovely, but something was missing. I really needed a shot something light and feminine. But as I looked through my very large collection of scarves, necklaces, brooches, nothing seemed to be the "perfect" accessory. I settled for a red and silver scarf and walked out the door, making note, that I needed to fill this accessory "void" as soon as possible.
So when I had a minute, during the Christmas holidays, I grabbed my crochet hook, and a ball of white yarn wound with a silvery thread and whipped up this "pretty" in a jiffy!
I love this little pattern. I had crocheted a bunch of these in pink to make my daughter's wreath back in November.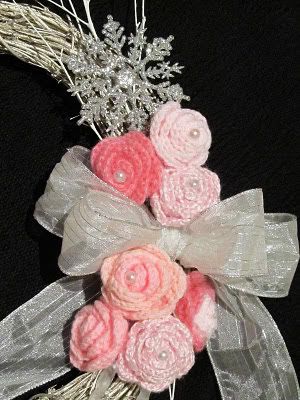 I can whip one up in about 10 minutes, and really, you get a lot of flower for very little time!
Hmm...pretty - but I need more glamour. How about one of these:
Yep. That's the ticket!
Here I am, modelling my handmade flower. Hubby took the pictures. (One of my resolutions for 2012 is the BE IN more photos. I'm off to a good start!)
What else does a girl need? Red lips, a flattering pose and a pretty little flower!
I've worn my brooch several times already and many of my friends are hoping for one, too. Maybe this weekend I'll get started on a few. I'll sit by the window and watch the snow fall, sip some orange pekoe and do some pleasant crocheting.
Thanks for the visit! Please leave a comment. I'd love to hear from you. And I'd love some new FOLLOWERS - please join in!