I had been looking for ages for something to hang in the big empty space above my daughter's bed. And then, one day, as I was walking through the "vintage" shop, I came across a circular piece that looked like plaster but weighed next to nothing. Right away I knew its scale and scrollwork were the perfect addition to girly's room.
I loved the little "fleur-de-lis" design, but I wasn't a big fan of the yellow-y, aged look, so.....
....of course, I hit it with a can of vintage white spray paint, and handsome hubby hung it on the wall.
For a few days, I popped in and out and admired my thrifty re-make. But the more I looked, the less satisfied I was with the overall look. Pretty, but also PRETTY BLAND!!
What to do.....colour is needed. But in what form??
Of course, I did what any creatively-blocked girl would do -
I VISITED PINTEREST!
I knew there'd be a "pin" that would fill this colour gap. After glimpsing through just a few of my boards, I came across this: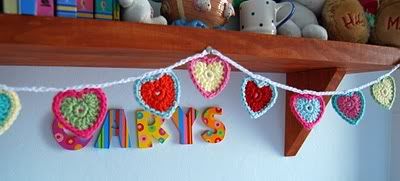 Oh yeah! This is it! I'd been saving this tutorial for a rainy, colourless day just like this one.
So out came my crochet hook and 6 balls of yummy pastel yarn ( and an episode of "Downton Abbey) and I was off and running.
First came the inner parts of the hearts - I made a dozen.
Then I crocheted an accent coloured edging on each one. Aren't they pretty??
And another unnecessary photo ( but they are just so darn cute!)
I followed the tutorial and added a rope that strung each pretty heart onto the next. Easy peasey.
And up it went - fastened easily to the back of the spray-painted circle.
There we go! The perfect splash of colour. It's just what I needed during these gray January days.
I'll admit I take full-advantage of the fact that my only daughter is a real girly-girl, and I add every feminine detail I can. Look - she has a lime green bed, pink and white bedding , lace-y scroll work on the wall, heart-shaped bunting and tissue paper flowers hanging from the ceiling.
She loves it - AND SO DO I!
Thanks for visiting. I'd love it if you left a comment. I cherish every one! And please - become a FOLLOWER!