I am finding more and more that papercrafting is becoming part of the way I decorate my home. For instance, these 2 portrait collages in my home are based scrapbooking sketches I found online:
Here is the one in our living room: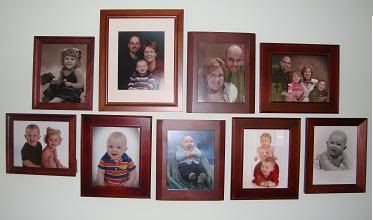 Here is the one in the kid's bathroom:
Cute eh? Can you guess which pictures are Bryn? Afton? Camden?
(The top 2 are Bryn, the bottom 2 are Afton and Camden is the far right.)
I had a friend ask me to post a picture of the wall art I made for Camden's nursery. They are simply canvases that I painted, then mod-podged pictures that I had pieced out of leftover scrapbook paper. They hang over the twin bed I have in Cam's bedroom (this bed was very useful when he was an infant and I needed to crash closeby!)