2 layouts to share today.
The first is one I created using pictures of my grandmother taken at Christmas time. Unfortunately, Grandma hasn't been well lately, dealing with bouts of dimentia. We don't get to see her very often, so we were very glad she attended our family's Christmas party. As usual , "GG" wanted to feel my daughter's thick, soft hair and had a quick cuddle with my youngest son.
My father-in-law (the kids call him Grandpa) LOVES to dance. It isn't a party until he has created a dance floor and a small crowd has gathered on it. On this particular day, Grandpa and Grandma encouraged my 3 kids to join them on the "dance floor." The kids LOVED it!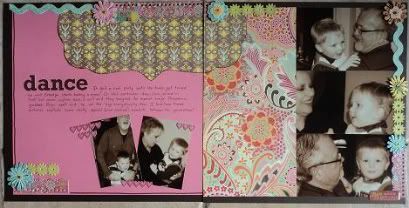 This layout is based on a Becky Fleck sketch and uses K & Company product.