Yikes. I have been such a bad blogger lately. Sorry Mom, sisters and fellow scrapbookers who try to keep up with my family with this webpage. Now that today is the last day of Xmas holidays (Boo!) I am sure I will quickly get back into some semblance of a schedule and I will find more time to post on a regular basis.
I promised myself I would sit down with a cup of tea and a magazine sometime this afternoon while the baby napped. I think I am running out of time, so I'd better post quickly and get the kettle on to boil!
How about some Christmas layouts? I love this "new" Christmas-y colour combo -all of my favourites are there - pink, red, turquoise, blue & green. Doodlebug created this colourful line this season and I absolutely love it! (I will take any excuse to use fuchsia!)
This layout features a picture of my 3 little guys playing in the box our artificial Christmas tree comes out of. On decoration day, the kids frolicked in it while Kevin and I did the tree decor.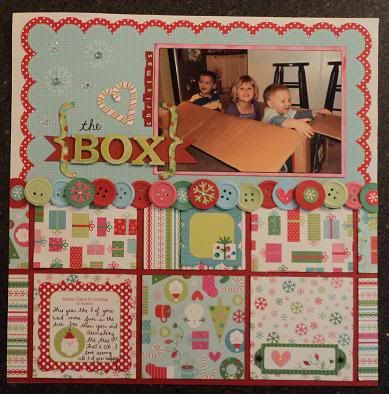 I decided this year I would try to capture Christmas in a different way. It seems like I take the same old pics at the same old events every year and my scrapbook pages look the same every time. Instead, I am trying to find the ideas that set this particular Christmas apart from all the others.
This tree-box picture captures just that.
As well as decorating the big tree in the Family room, this year Bryn and Afton each had smaller trees in their own bedrooms. As a child I had always wished a small tree of my own, but never had it. Now my children will get this experience every year.
Afton's tree is a pink, glimmery one we found at Walmart. Bryn's is a traditional green fir tree. Bryn chose green and cream ornaments for his tree and Afton picked pink and purple (of course!)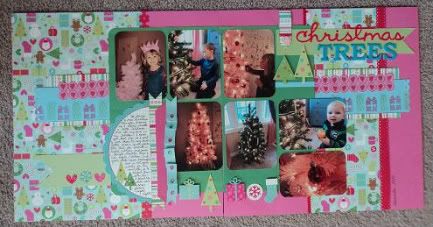 Next year, I think Camden will be old enough for a small tree of his own. I wonder what kind of tree he'll pick? Hmmmm.....I guess we'll find out 11 months from now!